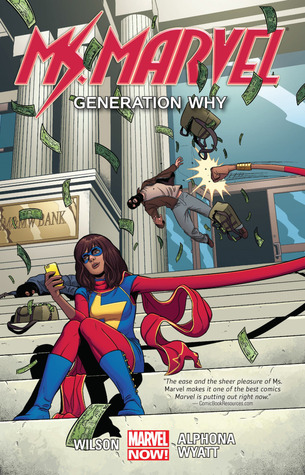 Hello!
Today i bring you my review on the second volume of "Ms. Marvel". You can see my review on the first volume here.
Who is the Inventor, and what does he want with the all-new Ms. Marvel and all her friends? Maybe Wolverine can help! Kamala may be fan-girling out when her favorite (okay maybe Top Five) super hero shows up, but that won't stop her from protecting her hometown. Then, Kamala crosses paths with Inhumanity for the first time – by meeting the royal dog, Lockjaw! Every girl wants a puppy, but this one may be too much of a handful, even for a super hero with embiggening powers. But why is Lockjaw really with Kamala? As Ms. Marvel discovers more about her past, the Inventor continues to threaten her future. The fan-favorite, critically acclaimed, amazing new series continues as Kamala Khan proves why she's the best (and most adorable) new super hero there is!
In this volume, Kamala confronts the Inventor and finds out who he really his as well as his intentions. She also finds a few new things about herself, encounters new "friends" and gains a true loyal friend Lockjaw.
This volume to me was amazing! I truly loved it, i found it funnier than the previous.
Lockjaw was a great addition, it fits in the ton of Kamala story. She is after all just a 16 teenage girl. The speech at the end wasn't the best, i didn't hated it because i understand why it's there. This new run on Ms. Marvel is aiming for a new generation of readers thus it needs to give them empowerment and show them good lessons just like Ms. Marvel did before or any other Marvel hero.
Summing it up, this volume did a lot better in my opinion, it's just not focused in world building and character building but in adventures and Kamala saving her city while fight the bad guy. That is the good thing about comic books, it's not all it needs but sometimes it is.
I give it, 4.7 stars out of 5 just because of that last speech.
Have you read it? Are you planning to? Spoiler review next!
If you read my previous reviews of comic books, i'm not used to it. So i'm trying to find the best method. I think listing my points is the best one since i go though most of everything in them.
– Who the hell invented the inventor? i'm now curious. Because he didn't actually liked the fact that he was a bird even thought he was Thomas Edison. Who is this person cloning people from the past?
– Wolverine cameo was so fun! Kamala totally fanned girl with us. And the selfie? I laugh myself of. The jokes also cracked me up. 'So with no powers you are just an old grumpy guy?' 'Yes'. I think this is why i'm starting to like comic books is because they are funny. I really enjoy The Flash (i know it's DC calm down ok?)(next read!) and Ms. Marvel is going that way.
– I pray the end line about Loki is true, please be true! It can have a spiderman cameo next time too, that would be hilarious. I can imagine two hilarious characters talking to the villain.
– Marvel is really into this inhumans thing lately, or maybe i just caught it up now, but i enjoyed that scene where she finds out she is inhuman and goes to Attilan to meet Medusa. Not to mention the cool captain america short appearance.
– If Kamala is an inhuman is her story going to cross over with other characters that suffered from the Terrigen Mist? Because if it does the world of Ms. Marvel just got a lot bigger.
I hope you enjoyed, don't forget to comment and like the post!
Stay awesome,
Viviana