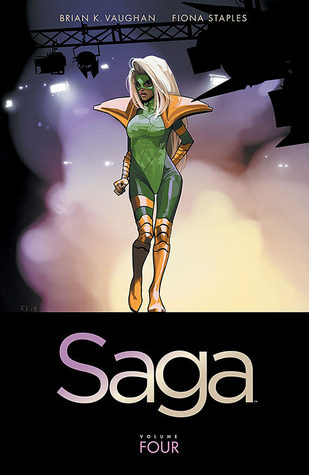 Hello!
This weekend i finished the fourth volume of Saga. *cries* Now i have to wait for the fifth one.
This volume to me was so quick i almost didn't understood all of it. Still, very exiting to experience. We got to meet new characters and some odd ones meet also. It has been a few years maybe? At least it looks like it, since the last volume.
Without some kind of spoilers is difficult to actually review it. It keeps the level of excellency on top like it did in the previous volumes. The characters start to grow on us and they grow a lot by themselves also.
5 out of 5.
Did you read the 4 volume? And the 5?
Some of my thoughts on this volumes next.
Plot: This is getting interesting and weird at the same time. Now we have this guy that actually killed 90% of the people he meets. We have the prince's baby in his hands and now he wants Hazel too. I still don't get is motives at 100%. Thinking it might be just someone who had a bad time in life.
Alana/Marko: I almost had an attack when i read they split up. Glad it just physical separation. I want to see where this is going. But its nice to see problems normal people usually have in a environment so different.
Ending: That pairing is just so weird. I hope they have success! Can't wait for the next volume!